Main content starts here, tab to start navigating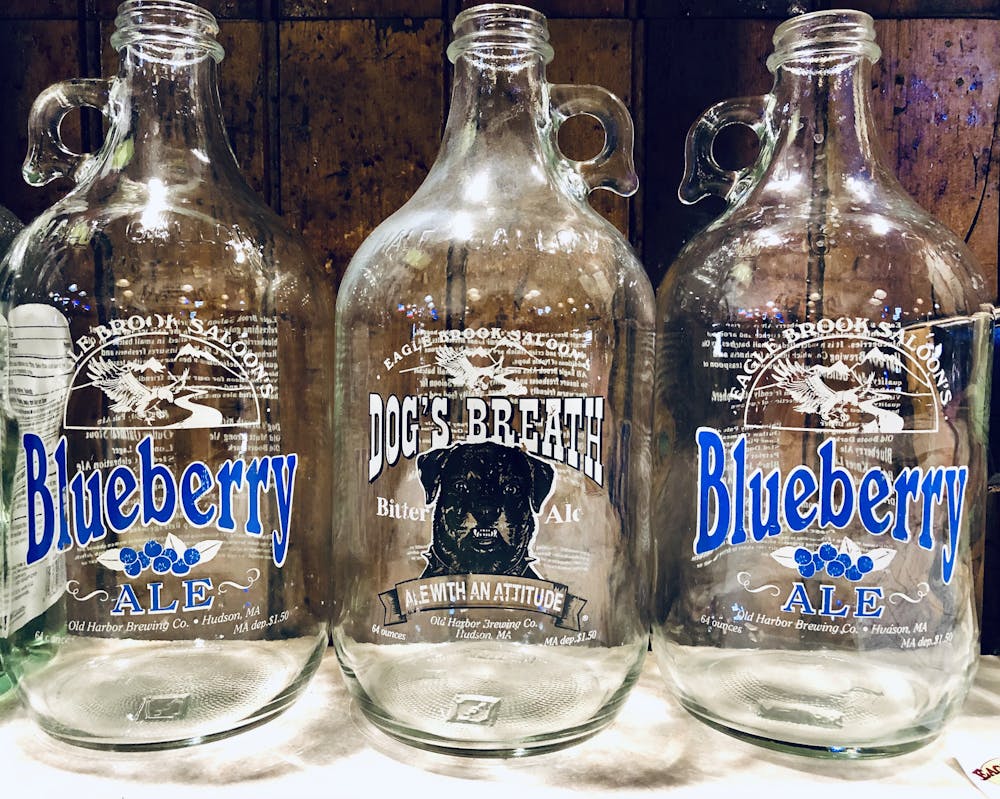 EAGLE BROOK HANDCRAFTED ALES
BLUEBERRY ALE : A light flavorful ale with blueberry flavor overtones and served with real blueberries. Our best seller!
PATRIOT IPA : A super premium pale ale, light copper in color. Very light in body and dry hopped with cascade hops for a very hoppy aroma.
DOG'S BREATH BITTER : "Ale with an Attitude!" A highly hopped, very strong version of a traditional English Bitter. Clean and crispy with a copper color and a very dry finish.
SUMMER SUN BLONDE ALE : A light and refreshing unfiltered Blonde Ale.
PAINT PONY PALE ALE : A traditional unfiltered pale ale that has a light body, a hoppy aroma, and a clean flavorful taste.
HOCKOMOCK AMBER : A medium bodied malty amber ale with a smooth finish.
OUTLAW OATMEAL STOUT : Deep, rich, and malty stout with hints of chocolate and coffee.
SIX RINGS NEW ENGLAND IPA : This New England IPA features Mosaic, Citra, Amarillo, and Idaho hops with a full body. A true winner!
DOUBLE BARREL IPA : A refreshing west coast style double IPA (8.2% ABV) served in 13 oz. pours.
GOLD RUSH IPA : A hoppy and citrusy west coast style IPA.
IMAGINE NEW ENGLAND IPA : Hazy and hoppy full-bodied New England IPA.
OPENING DAY IPA : A new juicy one-off IPA available for a limited time.
EAGLE BROOK ALE OF THE MONTH : Ask your server about this month's beer special!
GUEST BREWS ON TAP
STARTLINE HAZY IPA (Hopkinton, MA)
67 DEGREES PROXIMITY DOUBLE IPA (Franklin, MA)
JACK'S ABBY BLOOD ORANGE WHEAT (Framingham, MA)
DOMESTIC DRAFT BEER
BUDWEISER | BUD LIGHT | MILLER LITE | YUENGLING LAGER | BLUE MOON BELGIAN WHITE
BOTTLED BEER
BUDWEISER | BUD LIGHT | MILLER LITE | COORS LIGHT | BUD LIGHT LIME | MICHELOB | MICHELOB ULTRA | SAM ADAMS BOSTON LAGER | SAM ADAMS LIGHT | SAM ADAMS SEASONAL | RED STRIPE | BASS ALE | CORONA | CORONA LIGHT | GUINNESS STOUT | HEINEKEN | HEINEKEN LIGHT | MIKE'S HARD LEMONADE
16 oz. CANS
ALLAGASH BELGIAN WHITE | HIGH LIMB HARD CIDER | HARPOON REC LEAGUE | NEWPORT RHODE TRIP NEIPA| 67 DEGREES MARA | 16 oz. CAN OF THE MONTH (ask your server for this month's beer special)
HARD SELTZERS
TRULY LIME | WHITE CLAW RASPBERRY | BUD LIGHT BLACK CHERRY | HIGH NOON WATERMELON
HARD CIDERS
DOWNEAST HARD APPLE CIDER | ANGRY ORCHARD HARD APPLE CIDER
GLUTEN FREE BEER
MIKE'S HARD REDBRIDGE | GLUTENBERG IPA (16 oz can)
NON ALCOHOLIC BEER
O'DOULS | O'DOULS AMBER | KALIBER | HEINEKEN ZERO
WHITE WINE
LAGARIA PINO GRIGIO
WOODBRIDGE CHARDONNAY
OYSTER BAY SAUVIGNON BLANC
KENDALL JACKSON CHARDONNAY
WILLIAM HILL CHARDONNAY
SEAGLASS RIESLING
BLUSH WINE
BERINGER WHITE ZINFINDEL
CHARLES AND CHARLES ROSE
RED WINE
SYCAMORE LANE MERLOT
SYCAMORE LANE CABERNET SAUVIGNON
HESS CABERNET SAUVIGNON
CAVALIER D'ORO CHIANTI CLASSICO
TRINITY OAKS PINOT NOIR
ALAMOS MALBEC
MADRIA SANGRIA
SPARKLING WINE
CANELLA PROSECCO
FREIXENET BRUT
COCKTAILS
DUSTY RIDER : An Eagle Brook classic! Vodka mixed with fresh squeezed lemon, lime, and orange, topped with a splash of soda.
TROPICAL BREEZE : Ketel One Oranje, Malibu Rum, pineapple and cranberry juice.
RUM PUNCH : Captain Morgan, peach schnapps, orange and cranberry juice, topped with Meyer's rum.
THE PEACHSIDE : Ketel One Vodka, peach schnapps, and lemonade.
PATRIOT PUNCH : Malibu Coconut Rum, Myer's Dark Rum, pineapple and orange juice, and a splash of grenadine.
BEANTOWN GINGER : Jameson Irish Whiskey, ginger ale, with fresh squeeze of lemon and lime.
TWISTED SCREWDRIVER : Absolute Vodka, Amaretto, and orange juice.
DARK & STORMY : Gosling's Black Seal Rum, ginger beer, and lime.
GIN FLING : Tanqueray Gin, Midori, and soda.
TEXAS MULE : Tito's Handmade Vodka, ginger beer, and lime.
CRANBERRY APPLE : Crown Royal Regal Apple, cranberry juice, and lime.
THE SMOKEY BULLEIT : Bulleit Bourbon, Amaretto, and cranberry juice.
COCONUT CRUSHER : 1800 Coconut Tequila and pineapple juice.